Apply for a job @ Smartsign
Working with us means that you are part of an exciting journey in an expanding company where new faces, opportunities, customers and technology solutions are constantly presented, but where work tranquility and focus are prioritized and necessary.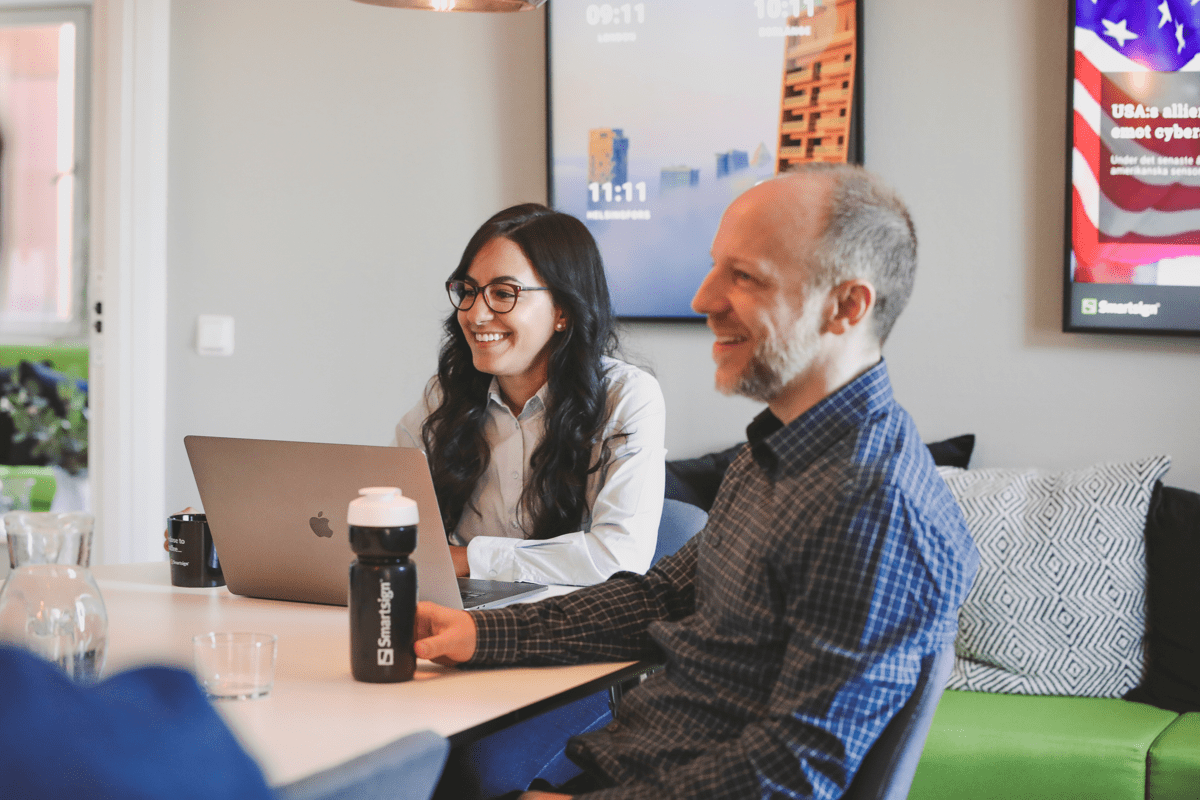 Team spirit above all
Our corporate culture is characterized by values such as commitment, responsibility, sustainability, technology, courage, and collaboration. However, there is more to our culture than just these words. We genuinely care about one another and strive to help each other become our best selves. If you face a challenge, a colleague is always there to lend a hand. If you have an idea, someone is always willing to listen.
Why work with us?
If you like you will be left alone in the middle of a nice group. We work with technology at the forefront and in constant development, which means concentration and calm while we have fun together. Friday coffee, training during working hours and after work are recurring. If you work here, you have flexible working hours and we also offer an electric car as a company car.

We have offices in several places in the world, which means that you can change your location if you want to try something new or make changes in your life.

Sustainability is an important issue for us, it applies to both ecological, social and financial sustainability. We have a sustainability policy that we call SMART, where we define our goals and actions. We are also a member of Viable City Borlänge, which is a comprehensive commitment that the municipality and a large number of actors have jointly made for a carbon-neutral city in 2030.

Smartsign must be a good workplace where our employees have the opportunity to grow and develop both as a group and as individuals. Here, cutting-edge competence and innovative thinking are gathered in senior and skilled employees who are happy to share their experiences with each other.



Here we genuinely care about each other and support each other in becoming their very best selves. If you encounter a challenge, you can always ask a colleague. If you have an idea, there is always someone to listen.
Get to know some of us
Being a skilled developer is not just about writing great code, it's about being a problem solver, a collaborator, and a constant learner. As a Scrum Master, it's my job to help my team develop these skills, and to create an environment that fosters their growth and success

Gabi

Scrum Master

My driving force is to build a product we can be proud of and that helps customers with their communication needs in the best possible way. I am always open to new ideas, techniques and strategies. My personal goal is to learn a new programming language or framework every year.

Robert

CTO

As a CEO of a software company, I am excited to lead the team that creates innovative products and services with the potential to positively impact people's lives. I understand that efficient teamwork is crucial to success, and I am committed to fostering an environment that encourages collaboration and open communication among all team members.

Dan

CEO
Increasing the pace
Smartsign has made a safe and stable growth journey over 20 years, when we now take the step towards the next 5 years, the development will accelerate greatly, and with the goal of multiplying both turnover and personnel, we are taking on the challenge of responsibly and with great commitment from each of our employees, take a step into the future.

A Promising Future
In today's world with an overwhelming amount of information from countless sources, it is challenging to distinguish between credible and trustworthy information. Communication and information play a crucial role in shaping people's behavior, attitudes towards various issues, and their ability to engage and influence society. It is becoming increasingly difficult to capture people's attention. Information needs to be delivered at precisely the right time, right in front of their eyes or ears, via phones or screens, to avoid being lost in the noise.
Nothing available that suits you?
We are continuously seeking talented individuals to join our team. Are you a student searching for an internship opportunity? Connect with us using the link below 👇, and we will keep you informed as soon as any suitable openings become available that align with your interests.
Our values
Team work

Collaboration internally as well as with both customers and resellers.

Customer Focus

We learn about the client's business in order to actively contribute to the customer's success.

Simplicity

It is easy to use our products and it is also easy to collaborate with us.

Reliability

Security and reliability in both products and relationships.
About Smartsign
We are helping our customers excel in corporate communication by create and provide the world's leading digital signage software​

Smartsign is one of the world's leading software as a service (SAAS) for digital signage, with more than 25 year's experience of digital signage installations all over the world. The head office is in Sweden, but there are sales offices, agents and customers in more than 40 countries.
Already working at Smartsign?
Let's recruit together and find your next colleague.